Radiator & Components for 2004 Pontiac Grand Am
No.
Part # / Description
/ Price
Price
Discontinued
Discontinued
1999-2006 GM Reservoir Tank
Reservoir Tank
3.4L. 1997-03. SSR. 2004-05. 2.3L, 2.4L & 2.2L without dohc, 2.2L. This GM Genuine Part is designed, engineered, and tested to rigorous standards and is backed by General Motors
1999-2017 GM Cap
Reservoir Cap
Helps seal and regulate cooling pressure in your vehicle's radiator surge tank
1992-2006 GM Level Sensor
Level Sensor
Coolant level. All models. 3.4L. 1997-03. 2.4L. 2.2L. 2004-05. Provides warning of low coolant level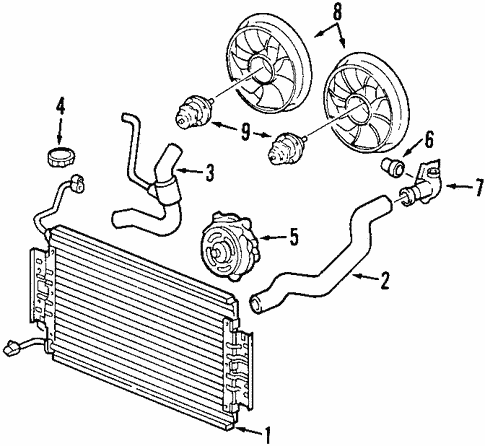 No.
Part # / Description
/ Price
Price
Multi-Purpose Relay
Fan Relay
Helps connect or disconnect power to vehicle accessories\ This GM Genuine Part is designed, engineered, and tested to rigorous standards and is backed by General Motors
1990-2018 GM Relay
Fan Relay
Helps connect or disconnect power to vehicle accessories\ This GM Genuine Part is designed, engineered, and tested to rigorous standards and is backed by General Motors
Radiator
Manual trans. All models. Auto trans. 1997-03. Lightweight; the radiators have a positive heat transfer to weight ratio\ Corrosion-resistant aluminum designed core helps optimize the radiators long lasting service life\ This GM Genuine Part is designed, engineered, and tested to rigorous standards and is backed by General Motors
Radiator Inlet Hose
Upper Hose
3.4L. This GM Genuine Part is designed, engineered, and tested to rigorous standards and is backed by General Motors
Radiator Outlet Hose
Lower Hose
3.4L. This GM Genuine Part is designed, engineered, and tested to rigorous standards and is backed by General Motors
1999-2017 GM Cap
Reservoir Cap
Helps seal and regulate cooling pressure in your vehicle's radiator surge tank
Engine Water Pump with Gasket
Water Pump
Incl.Gasket. 3.1l. 3.5L, 2004-06. Relay. Malibu, Malibu Maxx. 3.5l. Terraza, Uplander. 3.5l. 3.4 & 3.5L. G6. 3.5l. 3.4L. Montana SV6. 3.5l. Thoroughly tested for reliable, leak-resistant performance\ Uniform wall sections and smooth coolant-flow cavities for efficient operation\ Coated seals with a stainless steel spring for durability
Engine Coolant Thermostat
Thermostat
Controls the flow of coolant through your vehicle's radiator to help the engine reach and maintain its optimal operating temperature
Discontinued
1997-2005 GM Fan Motor
Fan Motor
Left. 3.4L. 2.4L. 2.2L. This GM Genuine Part is designed, engineered, and tested to rigorous standards and is backed by General Motors
1997-2005 GM Fan Motor
Fan Motor
Right. 3.4L. Left. 2.4L. 2.2L. This GM Genuine Part is designed, engineered, and tested to rigorous standards and is backed by General Motors
Discontinued
Discontinued
Related Parts
Part # / Description
/ Price
Price
Engine Coolant Bypass Hose
1997-00. 3.4 & 3.5L. 3.4L. Inlet. 2001-04. 6 cylinder. Gas, 3.1L. 2001-06. This GM Genuine Part is designed, engineered, and tested to rigorous standards and is backed by General Motors
Fuel Injection Throttle Body Heater Hose
Engine Coolant Hose
Pipe to Throttle Body. Throttle body outlet. This GM Genuine Part is designed, engineered, and tested to rigorous standards and is backed by General Motors
Thermostat Bypass Pipe Adapter Seal
Engine Coolant Pipe O-Ring
Coolant Bypass Pipe. 3.4 & 3.5L. 3.1L. This GM Genuine Part is designed, engineered, and tested to rigorous standards and is backed by General Motors\ Original equipment parts are designed to work with your GM vehicle safety systems -- aftermarket replacement parts may not meet the same OE safety regulations, depending on the part type